Manicure and Pedicare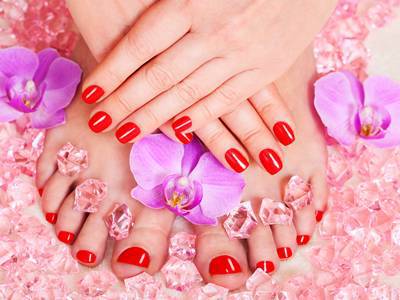 We think it's about time you took some time out to pamper yourself with a manicure or pedicure and visit us here at our Adelaide beauty clinic and day spa, Visible Changes.
Although sometimes overlooked, a manicure & pedicure should be an integral part of your beauty regimes. Immaculate nails, feet and hands not only look great – they enhance your confidence and revamp your entire image.
Whether you would like a basic nail treatment program or take things a few steps further and bask in a little more personal attention and pampering, Visible Changes has something for you.
Precision Manicure (30 mins)
Your nail polish is removed and your hands are soaked in a warm, ultra-moisturising hand bath. Following this is a cuticle care and condition. Then you're indulged in a skin rejuvenating hand massage with our exclusive Visible Changes aromatic hand cream. Your treatment is concluded with your choice of colour nail polish or natural satin buff.
Spa Manicure (45 mins)
This unique manicure treatment includes all the benefits of the precision manicure with the added benefits of an anti-ageing, skin rejuvenation exfoliation of the hands and arms. Visible Changes' exclusively formulated replenishing vitamin repair cream and treatment mask is then massaged into your skin to treat visible signs of premature ageing, tired and overworked hands.
Spa Pedicure Foot Facial (45 mins)
Comfortably seated, your feet are submerged in a delightfully fragrant and antiseptic hydrotherapy foot spa. The beginning of this pedicure and skin rejuvenation treatment for your feet is equivalent to a facial. Your toenails are expertly contoured, the rough, dry, and calloused skin is gently but thoroughly removed, and your legs and feet are treated to a soothing and tension relief massage. This is all topped off with our Visible Changes beauty clinic's specially blended aromatic plant oils and balms.
Following this is a decongesting toning refreshing masque, providing relief for people experiencing swollen legs and ankles affected by hot weather, long periods of standing, and water retention. The pedicure is completed with your choice of colour nail polish or natural satin buff.
Express Pedicure (30 mins)
This particular pedicure is designed for people who generally take good care of their feet, but still want to enjoy a bit of pampering. Indulge in a little bit of relaxation and massage at our tranquil Adelaide day spa – all while getting your feet in tiptop shape. Choose from a range of our colour nail polish or natural satin buff to perfectly finish off the look.