Massages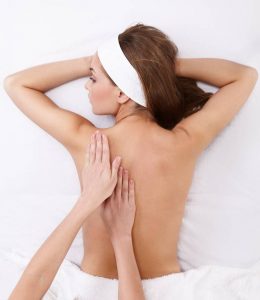 For the ultimate experience in relaxation and re-balancing visit us here at our exclusive Adelaide beauty clinic and day spa, Visible Changes, and awaken your senses.
Enjoy your fully accredited and experienced Adelaide massage therapist working their magic on your body – transforming you from 'human doing' to 'human being', from reality to tranquillity. Our Adelaide massage and spa treatments are the ultimate in reenergising and rebalancing. We return you to your mind, body and soul.
Massage therapy is a time honoured, ancient wellness regime which has many levels of benefits from relieving stress, improving circulation, reducing muscular tension, skin rejuvenation Adelaide, and alleviating the negative effects of everyday exhaustion which is an inherent part of modern day living. Massage is a powerful way of restoring the body's flow of energy and is a vital tool used to enhance your state of wellbeing.
Our expert certified therapists at our beauty clinic and day spa will restore your sense of wellbeing with customised combinations of deep tissue, shiatsu, Swedish and manual lymph drainage techniques designed to counter balance the effects of everyday stress. We offer a variety of massage treatments to suit you and your time frame, so please advise us of your needs and we will recommend the appropriate massage for you.
Visible Changes Wellness Massage (60 or 75 mins)
All massage treatments begin with you lying down to unwind. You just need to breathe deeply, listen to the relaxing music, and allow our expert hands to ease your cares and rub your aches away. Surrender yourself to a self-renewal for your mind, body, and spirit by indulging and awakening the senses. Allow yourself to be pampered and revitalised at the best day spa in Adelaide.
Our massage therapists at our Visible Changes beauty clinic and day spa will use long soothing strokes, gentle to deep kneading or finger pressure on tense muscle areas or active and passive movements in the joints to relieve physical or mental stress and deliver to you the ultimate state of relaxation.
Our method incorporates a combination of precision massage movements using custom blended aromatic essential oils and balms to promote a sense of inner peace and restore even the most tired of bodies.
Visible Changes Tension Relief Massage (30 mins)
With only a few moments to spare from your busy schedule, this abridged version of our wellness Adelaide massage selectively targets your back, neck, arms, and shoulders to instantly relieve stress and tension while soothing your tired aching muscles.
For centuries now, day spa body therapy treatments have been embraced for their revitalising and therapeutic effects. The body, just like the face, also needs regular care. Visible Changes body treatments are recognised as being unique, specific – and above all – highly effective, only using products that are ecologically balanced with the purity, perfection, and luxury of natures greatest gifts. See for yourself at Visible Changes, the best beauty clinic and day spa Adelaide has to offer.