APAN CLINICAL SAFETY POLICY INFECTION CONTROL PROTOCOLS
World Health Organization officials emphasizes that the best way to protect yourself against the coronavirus is by washing your hands and avoid touching your face. Mucosal surfaces, your nose, eyes, ears are the entryways for this virus to infect.
If you are touching surfaces that can be contaminated, or close to someone who has coughed or sneezed, and then you touch your nose or your mouth, you're ultimately bringing that virus closer to contact with parts of your body that can get infected.
The standard procedure is to wash for at least 20 seconds however the World Health Organisation has increased that to 40 – 60 seconds. Detergent is recommended because the virus is sensitive to detergent, meaning soap will inactivate the virus.
The process of washing your hands also needs to be very thorough, including washing carefully the back of the hands, the palms of the hands, as well as between the figures, as well as under your nails if they are long (see diagram).
Hands must be washed before any procedure. Following handwashing do not touch your face or other surfaces. After every procedure you will need to once again wash your hands.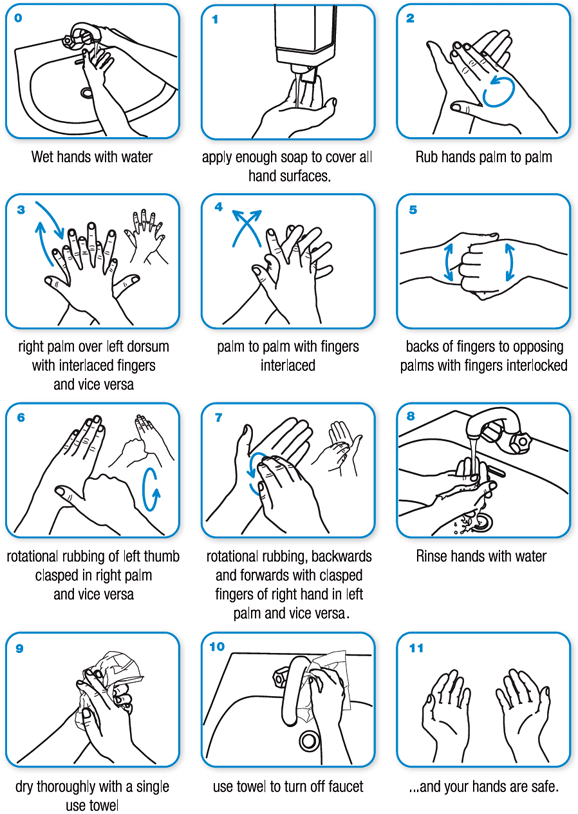 B. PREVENTION AND PREPARATION - CLEANING AND SANITISING
Since transmission for coronavirus is also thought to be from fomite transmission, it is required that you review your cleaning protocols. A fomite is any inanimate object, that when contaminated with or exposed to infectious agents, such as pathogenic bacteria, viruses or fungi, can transfer disease to a new host.
Your environmental protocols should ensure you clean the following at least twice a day:
Client/Patient chairs
Counters and hard surfaces
Medical or implement trays
Door knobs and other surfaces between each patient visit
C. WHAT ABOUT HAND SANITISERS FOR PROTECTION AGAINST THE CORONAVIRUS?
While it has not been proven that hand sanitizers are a guaranteed method to prevent infection, they are recommended to be used between hand-washing or if you are out and about.
You can also make a hand sanitizing gel available to your clients once they enter your premises.
Hand sanitizers have agents in them that kill viruses. Alcohol-based hand sanitizers are "expected to be effective" against the coronavirus.
It is important to note that the coronavirus is not transmitted through the skin, it infects you through your respiratory tract, this is why avoiding touching your face is an important preventative measure.
DIY HAND SANITIZER
You can create your own hand sanitiser. Here is a simple recipe:
2/3 cup 99% rubbing alcohol (isopropyl alcohol) or ethanol
1/3 cup plain aloe vera gel or vegetable glycerine.
You can also use 50% isopropyl alcohol and 50% distilled water for surface cleaning.
According to professor of microbiology and coronavirus researcher Stanley Perlman, surgical masks aren't as good as keeping the virus out because they have larger pores. The virus itself is so small that it can penetrate the mask.
Surgical masks are flat and pleated, however, the most effective and recommended mask for protecting against the coronavirus is the N95 respirator. This is because the N95 masks can block up to 95% of the airborne particles it is therefore the one we recommend you use.
How to apply the mask:
If you have long hair, tie your hair back
Now wash your hands before applying the mask
Follow the instructions on how to apply the mask without touching the front of the mask
Press the mask at the top and sides to ensure that no air can penetrate from around the mask
N95 Masks provide protection up to 6-8 hours. They then must be disposed of without touching the front of the mask.
Full instructions of application and removal will be made available from your supplier.
Due to the nature of this virus it is important to implement a screening policy for each client who requests a service from your salon or clinic. Screen first then look for symptoms. Below is a Client Screening Policy:
E. CLIENT SCREENING POLICY
The risk of exposure to COVID-19 is believed to be highest for those people who have travelled through certain countries.
Please confirm if you have recently visited any of the countries below?
( ) Mainline China
( ) Iran
( ) Cambodia
( ) Hong Kong
( ) Indonesia
( ) Italy
( ) Japan
( ) Thailand
( ) Singapore
( ) South Korea
If they have visited any of the above countries, we require that you wait 14 days before we can proceed with your treatment.
Your utmost safety is paramount to us as is the safety of our staff and clients.
We are happy to reschedule your appointment in 14 days subject to you exhibiting no virus symptoms.
Thank you for your understanding and co-operation.
FOR THE LATEST ADVICE, INFORMATION AND UPDATES GO TO