Preventing Acne So That It NEVER Returns.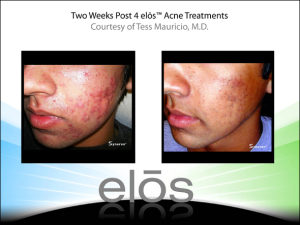 Acne treatments stop acne and acne scarring, but it's a complex issue and a stubborn one at that! We get so many clients coming in to see us craving acne treatments that can produce a clearer, brighter complexion. This leads us to develop acne treatments and skin treatment programs that produce healthier-looking skin for all ages. Prevention is the best kind of cure for acne, so make sure you start taking steps towards fit, glowing skin now.
The Right Products
We have over 20 years of experience dealing with all types of skin issues, including acne and cystic acne, so we have seen our fair share of different acne skin treatment products claiming to be miracles in a bottle. But the truth is a lot of them do not deliver. Here at Visible Changes we consistently see results because our acne treatment products have been proven to work. We know this because we've seen it with our own eyes.
The price of a product does not always determine its effectiveness! The active acne treatment ingredients are much more important. Once you find a product that works for you, stick with it! Or alternatively, come see us at our Visible Changes acne and skin care clinic, where we will guarantee you products that are individually tailored to your acne treatment and skin care needs.
A Consistent Skin Care Routine
When it comes to a clear complexion, consistency is key. Make sure you develop a daily skin care routine that works for you and your lifestyle. For general upkeep, we recommend washing your face twice a day with a cleanser and then applying a toner. Always moisturise after. Only exfoliate your skin once every couple of days to avoid irritation and further inflaming acne.
Developing a healthy skin care regime is vital in preventing the daily risk of inflammation or breakouts of acne on your skin. Even if you feel like your skin treatments have completely cleared your skin – it only got to this stage because of your good habits, so keep persevering.
Also make sure your products, especially your moisturiser, are non-comedogenic to avoid further blocking your pores resulting in breakouts or pimples, acne, and acne scarring.
A Healthy Diet
Eating a healthy, balanced diet may seem unrelated to an individual's acne treatment or certain skin conditions at first, but the effect it has on your complexion is immeasurable. Loading up your body with the nutrients it needs to sustain healthy growth and support maintenance is incredibly important. Your body can practically do all the work for you if you give it the right tools!
Make sure you do not skimp on fresh fruits and vegetables, lean protein, and whole grains. Any kind of processed foods is like poison for your skin, especially if you are already having issues with acne or maintaining a clear complexion. So try to stay away from them as much as possible – everything in moderation.
Lots of Water
On top of a healthy diet, incorporating lots of water into your daily routine is another simple but effective way towards clear, acne-free skin. Water not only hydrates your skin, which is the key to maintaining plump, strong skin cells, but it also acts as a detox. Water flushes out toxins in your body that often have nowhere to go but out through your skin. This in turn can cause you a myriad of problems including acne, so grab the nearest water bottle and fill it up to the brim.
If you are still worried about the condition of your skin or your acne symptoms keeps persisting though – do not be afraid to visit us at Visible Changes. We will personally work with you and guide you on the path towards clear, beautiful skin and confidence to boot.
You can contact us by filling in the form, or you can make an appointment for the time that suits you.
Teresa Russo
Visible Changes Clinical Director